2350 PROSPECT
NEXT-LEVEL STUDENT HOUSING
Welcome to The Morgan House at 2350 Prospect, our first all-women private co-living concept for students in Berkeley! We're ecstatic with our newest ground-up development located in the heart of Berkeley, CA, less than a block from UCB Campus.
The Morgan House was inspired by the greatest female architect and engineer of her time. Julia Morgan, who influenced much design and architecture around the Bay Area, was the only woman to graduate in the 1984 UC Berkeley engineering class.
The Morgan House embodies Next Level Student Housing with its carefully curated designs, finishes, and amenities. Featuring carefully curated designs, finishes with state-of-the-art appliances and fully-furnished rooms, student housing never looked so good (and it's definitely never been easier).
Private/Single & Shared/Double Rooms

Furnished, Plug-&-Play Rooms

Rent Starts at $1,400 Per Month

Flat-Rate, All-Inclusive Utilities ($199 Per Month)

All-Female, Student-Only Housing
Twin-Size Bed, Mattress & Mattress Cover

Freestanding Wardrobe or Closet
Trash, Recycling & Compost
Regular Common Area Housekeeping

Shared Household Items (Toilet Paper, Paper Towels, Soaps & Detergents, etc.)

Free Print Station Access

Regularly Scheduled Community Events
Fully Furnished Community Spaces

Fully Furnished Kitchen with Utensils & Necessities

Dedicated, Live-in Community Manager
Service Amenities
& Add-On's
Online Maintenance Requests

West Elm Inspired Outdoor Space

In-Room Housekeeping Services*
RENT & ROOMS
WHICH ONE WILL YOU CHOOSE?
1 Year Lease: June 3 - May 31st

10-Month Lease: August 1 - May 31st

Utilities: Flat Rate of $199 Per Month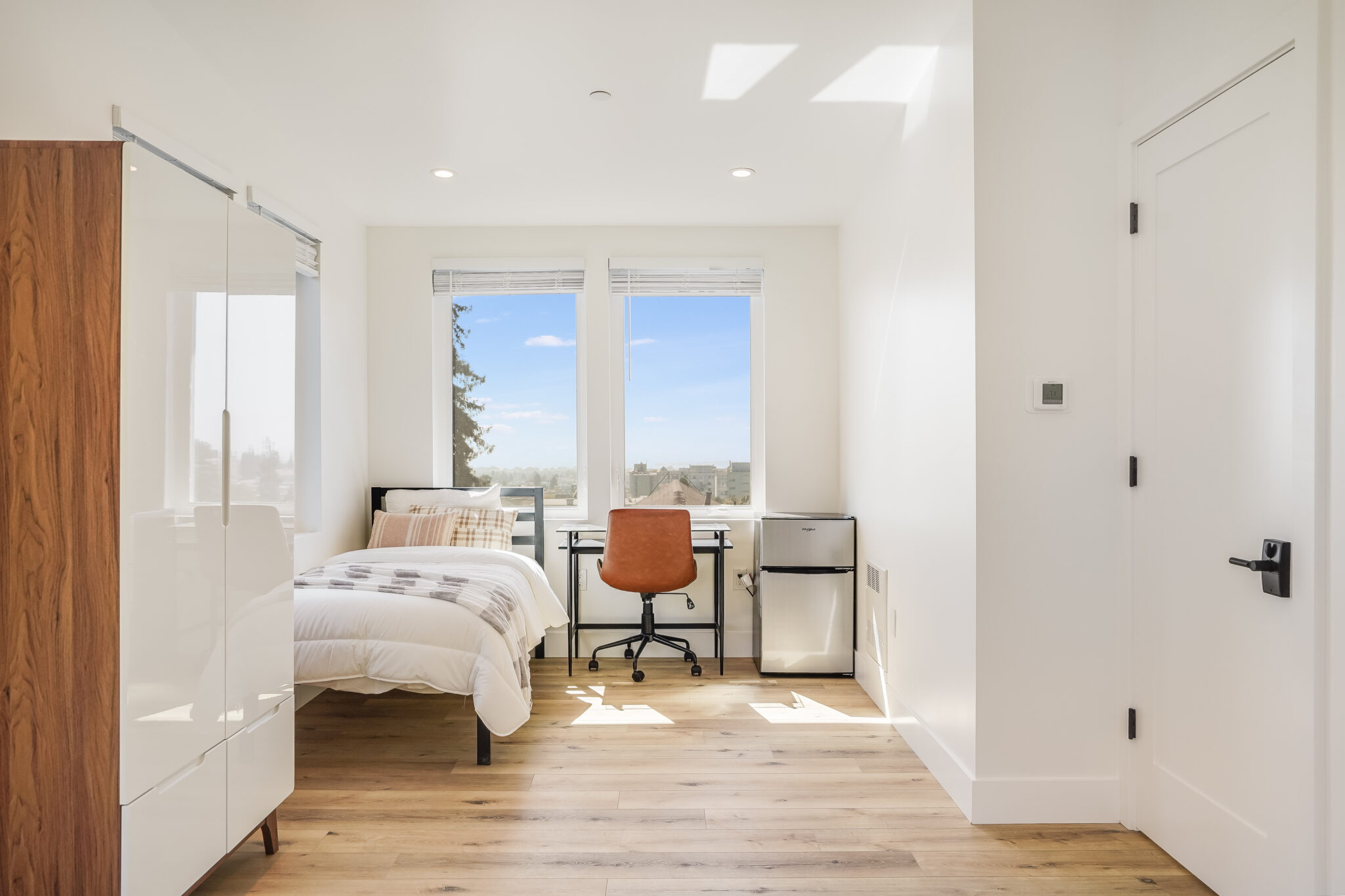 1 Year Lease: June 3 - May 31st

10-Month Lease: August 1 - May 31st

Utilities: Flat Rate of $199 Per Month

Floor: Lower Level & 2nd Floor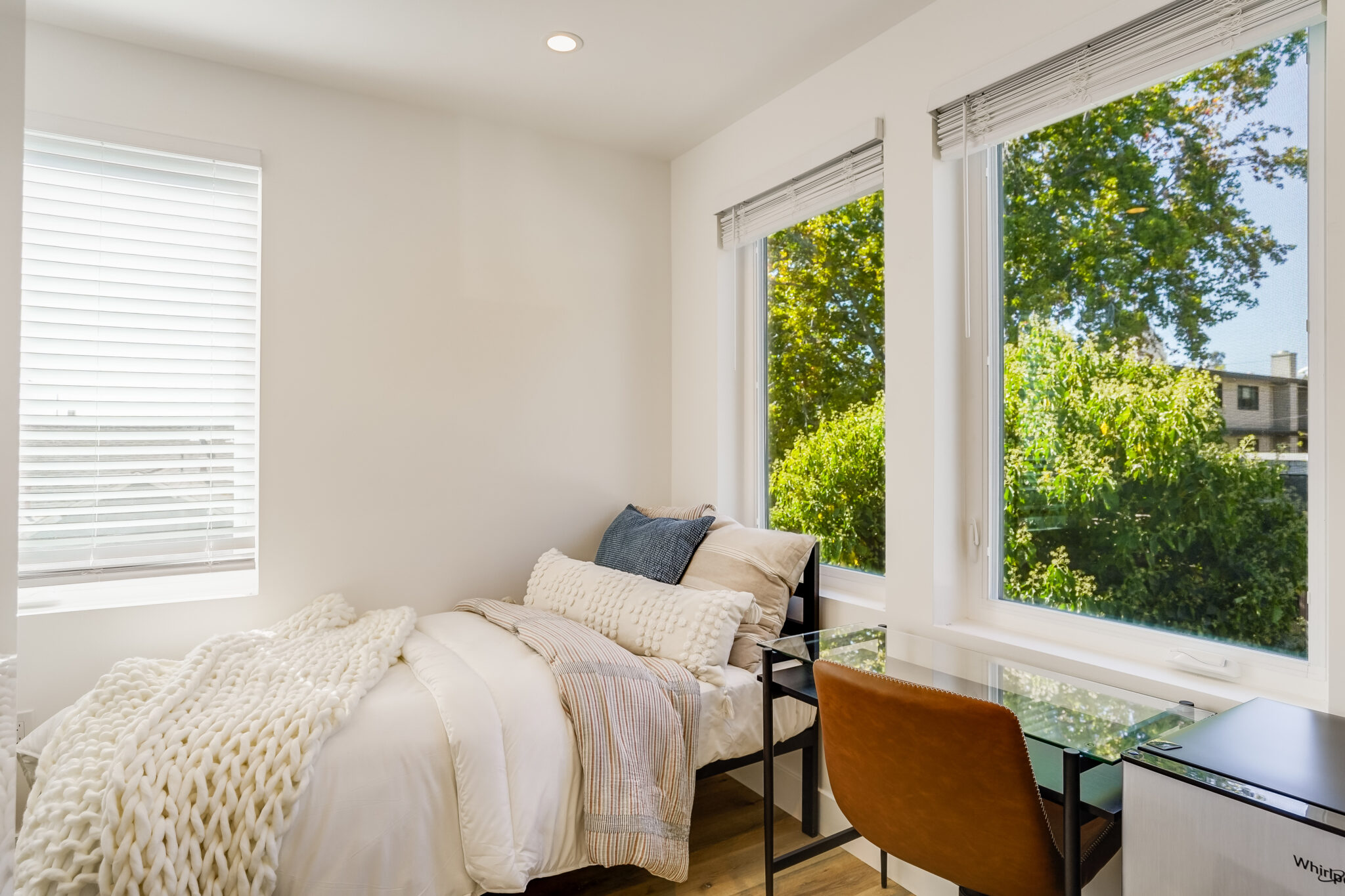 LOCATION
NEVER MORE THAN A FEW BLOCKS AWAY
By Walking: 5 Minutes to Campus By Bike: 2 Minutes to Campus
OTHER COMMUNITIES
FIND A SPACE THAT SUITS YOU!
The Berkeley Group is a premier provider of student housing in Berkeley, California. Placing a strong emphasis on community and relationships, The Berkeley Group has gone above and beyond to create "next-level student housing" for UC Berkeley students.
©2021 THE BERKELEY GROUP. ALL RIGHTS RESERVED.